Innovating in the Digital World

Innovation is not just about technology, startups and chasing the latest trends – it's about people and culture, strategy and skills.
Senior executives embark on a self-guided 'innovation journey' and learn to navigate the waves of disruption in their industry. Julian Birkinshaw, Professor of Strategy and Entrepreneurship, has worked with Learning Innovation to develop a digital learning programme to help busy executives navigate the waves of disruption in today's business terrain. Called Innovating in the Digital World, this learning experiment is London Business School's first Small Private Online Course (SPOC). It was launched in Jan 2019, and the team is excited to bring the fully online experience to life.
The SPOC focuses on managing innovation in established firms. It can apply to product and service innovations, tech solutions, new ways of thinking about old or existing problems. It challenges learners to chart their own personal innovation journey and develop a practical action plan. At the end they come away energized and inspired, with a greater understanding of the tools that every organisation needs to succeed.
The Aim
First and foremost, we wanted to put the learner in the driver's seat. For the sake of active and maximum engagement. The goal was to empower executives to find and define their own innovation challenges and then create their own solutions. Multiple choice was not a viable option.
At the same time, we knew that a strong faculty presence was mandatory for success in a fully online experience. We'd need to incorporate personal touchpoints in just the right places, and to make learners feel motivated and supported.
The trick was to design a user experience that was as straightforward and efficient as possible for busy executives, yet flexible enough to allow for creative thinking and side trips with selected content.
We also wanted the journey to be exciting, even fun.
Over several months, Learning Innovation worked hand in hand with Professor Birkinshaw to experiment with creative ideas and instructional design solutions, including video, e-case studies and a variety of interactives. Online learning methodologies and best practices provided a basis for brainstorming, to keep us grounded and on track. Close collaboration ensured all course content and activities would be tied back to learning objectives and outcomes.
Self-Paced & Student-Driven
Learners work through each module at their own pace, selecting material based on their own challenges. They're given options upfront about how to approach the learning journey - focusing on themselves as individuals, on their team or on their organisation.
As they move through the modules, they can choose where to take a deep dive into subsets of topics, and which content to skip if it does not serve their goals. These options allow them to change gears when they help them feel more in control and increase their expectation of success.
Practical & Relevant
E-case studies with business leaders and experts are a key component in each module. Featuring personal stories about challenges and real-world applications, they add valuable context to the concepts discussed. You'll gain insights from innovators within the corporate world as well as from entrepreneurs who are disrupting established industries.
Personal & Supportive
We set out to create an environment where participants could achieve their goals and feel fully supported. Given that this would be 100% online, it was vital to provide personal touchpoints and ways for participants to connect - with the faculty and coaching team and with each other.
Mission Reports, Discussion Forums and Surveys are designed to do just that. After introducing one's self to colleagues, participants are prompted to share their mission findings and comments and to keep the conversation going. At the end of every module, a professional coach moderates a discussion forum.
In addition to coaching, the teaching team also provides one-on-one feedback on select assignments. Webinars with Professor Birkinshaw serve as bookends at the start and finish of the programme.
Studies reveal three interconnecting factors that influence how motivated a student is to pursue their goal. They need to: 1) see that the goal has value, 2) expect they can achieve it, and 3) believe that the environment is supported.
Visual & Sticky Learning
Infographics are used throughout the course to organise learning and enhance knowledge retention. These visual tools encapsulate key concepts and module summaries, allowing busy executives to quickly absorb and then apply newfound knowledge back at work. Infographics break down complex concepts and data into digestible, bite-sized pieces. Executives get a quick overview of the topic, without having to read through dense text.
The Outcome
A fully online experience, the Innovating in the Digital World programme is the School's first Small Private Online Course (SPOC). It works on any device and is fully mobile compatible.
Framework & Structure
Objectives, assessments and instructional strategies are fully aligned and clearly spelled out.
Participants can see where their effort is leading at all times, helping them feel in control of their learning.
Five modules - each with a clear set of learning outcomes - steer them through the five stages of their innovation journey. Learners work at their own pace and can choose which material to cover. Discussion forums at the end of each module, moderated by a professional coach, encourage individuals to open up, collaborate, and engage in peer-to-peer support with colleagues on their innovation challenges.
Professor Birkinshaw hosts two online webinars, one at the beginning of the course and one at the end. Participants have six weeks to complete the full programme.
Points & Badges
Participants earn points and badges for completing tasks in each module. More than just a gimmick, this feature allows them to easily track their progress at every stage.
Here is how it works:
A total of 100 points is available for each module. Points are awarded for contributing to group activities such as Mission Reports and Discussions.
25 points for completing each Mission Report

25 points for contributing to a Discussion
Badges are awarded for completing all the activities in a module and achieving 100 points. To complete the programme, you need to earn five badges - one for each module. A quick glance at the Leader board lets you know where you stand and keeps you on track.
The Impact
Participants learn the basic principles of innovation and how they can be used to manage innovation in established firms. They also gain key skills and strategies, tailored to their organisation's needs as well as their own career goals. In addition, they learn how to:
Identify, define and frame their own innovation challenges

Tap their innate creativity with proven techniques

Develop fresh models of thinking and habits of mind

Motivate employees to become more engaged, brave and open to change

Build support from key decision-makers to take concepts to the next step

Use business experimentation to turn ideas into long-term reality
In 2018, students in the Making Innovation Happen course used a subset of the Innovation Playbook as a 'pre-programme' exercise before they arrived on campus.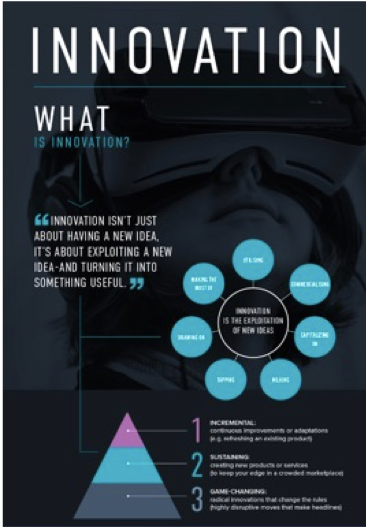 ---
Header Photo by Daria Nepriakhina on Unsplash